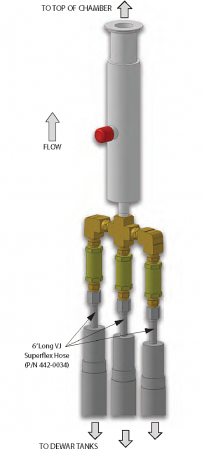 Manifold connects up to three (or four) LN2 dewar tanks to the chamber instead of fixed LN2 installations.
The kit includes a three position dewar manifold with 1/2" female MVIP connection, four 1/2" x 6' VJ Hoses, clamp and o-ring. Also includes Unistrut, fittings, and clamps to secure the dewar manifold to a wall and the hose connecting to the unit.
Recommended: There are 10' and 15' VJ Flex Hoses for connecting the dewar kit to the chamber.